Large-White Pigs (Weaners | Postweaners)
Add to wishlist
Added to wishlist
Removed from wishlist
6
Seller:
FaleksFarm
4 out of 5
We offer the hybrid large white pigs with the following characteristics:
Bacon type breed
Other distinguishing characteristics are erect ear, the snout of medium length, large in size and slightly dished face
Skin is pink colored and is free from wrinkles with a long and moderately fine coat. The neck is long and full to the shoulder. Back is slightly arched.
We have the weaners and postweaners for sale.
Excellent for crossbreeding.
Delivery is nationwide
♦Commercial Hybrid Pigs
Our large white breeds have been vaccinated and dewormed, Recommended feed constituents for pigs include (PKC 53%, corn bran 28.3%, soybean meal 16%, bone meal 2%, salt 0.5%, premix 0.2%).
The large white pig is an exotic breed of pig known as the leading bacon-producing breed.
Characteristics of Large White Pig (Large Yorkshire)
A Large White pig has a moderately long head, has a slightly dished face, and a broad snout.
Its neck is fine, long, and evenly full to shoulders with deep and wide chests.
Additionally, they have long, level, and wide back.
Mature boars have weights between 100 kg and 150kg and mature sow weighs between 80 kg and 120 kg.
Large White pigs possess good carcass quality.
The breed is highly prolific and an efficient feed utilizer.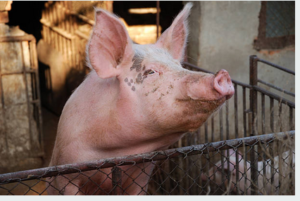 Specification:
Large-White Pigs (Weaners | Postweaners)
| | |
| --- | --- |
| Estimated delivery (working days) | |
| Age | 4-6 months |
| Minimum Order | 5 pigs (growers) |
Dimensions
Share your thoughts!
Let us know what you think...
Only logged in customers who have purchased this product may leave a review. Log in now
No more offers for this product!
Shipping Policy
We offer a payment before delivery shipping option.
For our rabbits, they are packed in well-ventilated boxes and given enough feed pellets and grasses to last them for the transport duration.
We will automatically forward the feeding recommendation and medication history to your email after your order has been processed.
For the rabbits, we ship in a minimum of 5 (1 colony of males and females)
Our products are available for shipping nationwide
Refund Policy
Kindly confirm your orders at the delivery point. For dispute resolution, kindly contact us as soon as you receive your orders for confirmation. We only offer compensation for mortalities due to transportation.
Products taken to the farms from the delivery point are not covered in our compensation plans.
Cancellation / Return / Exchange Policy
Orders processed and shipped are not liable for cancellation or returns.
General Inquiries
There are no inquiries yet.
Large-White Pigs (Weaners | Postweaners)
Related Products
Editor choice
Editor choice
You may also like…
Featured!
- 5%
- 19%
Add to wishlist
Added to wishlist
Removed from wishlist
6
Seller:
FaleksFarm
4 out of 5